The following recipe was submitted by Heather of
Holistically Heather
,
For The Love Of Vegan
and
Recycled Cycle
.
Tonight we are making a home favorite, that is super simple!
PORTABELLA PASTA!!!!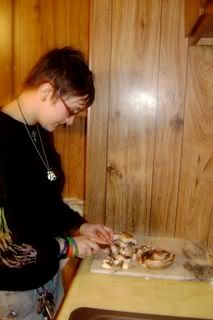 What you will need:
2 portabella mushrooms, diced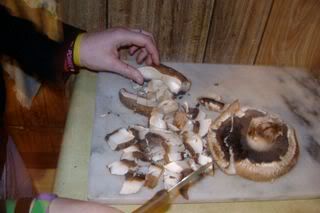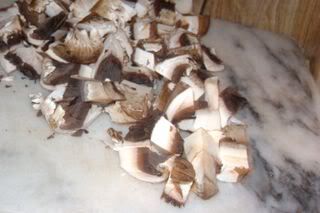 2 small or 1 medium onion diced
4-8 cloves of garlic diced (depends on your personal taste, my taste is for garlic)
seasame oil
sesame seeds (optional yet delicious)
basil and oregano (its winter so dried will have to do)
braggs liquid aminos or soy sauce
1 Lb of pasta, we like gluten free pasta, but do whatcha want
1/8 to 1/4 c. nutritional yeast (gives it a cheesey nutty type flavor that we love)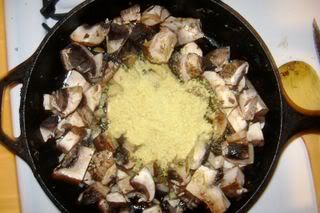 Super simple, here we go....
Start a pot of water to boil for the pasta, boil pasta til its done, you know the deal!
Saute the mushrooms, garlic and onion and braggs in a couple Tablespoons of sesame oil, until the onions and garlic are translucent and the mushrooms are a nice chewy texture. Strain the pasta, and put into a big bowl, we like wooden bowls.....I dont know why but Ive always loved wooden bowls, spoons etc... mix the pasta, mushrooms garlic onion combo, some more sesame oil, sesame seeds, basil and oregano, nutritional yeast and salt and pepper to taste.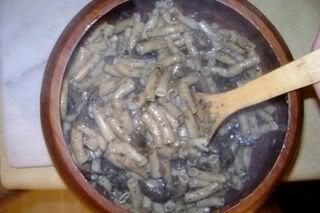 Now, wasnt that easy? Its such a quick delicious meal!!!!
Enjoy...
And here is a random shot of penney coming to check out whats for dinner!